The complex consists of 4 houses which were built in the open Kenyan structure;
the properties also offers access to our beautiful guest swimming pool.
How everything began.

It started with our honeymoon in Kenya in the dream beach of Diani Beach from we stayed at Hotel Twoo Fishes
and enjoyed a safari into the Masai Mara.
The whole trip was absolutely fantastic and it was immediately clear: we would see Kenya again.
After the first trip, we were so excited and all we did was working and dreaming of Kenya.
Until one day my wife called me in the shop and said:
"Sweetheart! Someone on eBay offers land in Kenya for sale!"
At first I was a little suspicious, but we found out very quickly that the sale and the agent were reputable.
Finally, we purchase the property in October 2005.
Now, the adventure Kenya had begun!
Although it took a lot of energy and more money as expected,
our dream was even stronger and proudly we moved all the rocks out of the way.
In July 2006 we started with our first house construction;
in November our first house was completed.
Straightaway we started the second house Rhino and in October 2007
our first guest house was built.
We encounter some problems with the water pressure: it was too weak for all the properties! So we decided, two years later, to build a water tower, slightly wider and a bit longer, to make it comfortable to live in, the works were done by October 2011.
And the next question popped up: where should we accommodate friends
when they come to visit?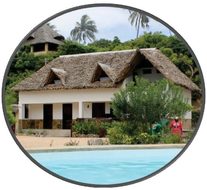 Our First House
Here, we are missing a little house!
So we decided to build house Simba, with the final completion in August 2012.
We had so many ideas and we were certain, at that point, we were very far from DONE!
A swimming pool would be amazing, wouldn't it?! Why walk down to the Indian Ocean,
if we can cool down right here, outside the house?
While the pool was taking shape, we decide to build Villa Buffalo.
We celebrate the opening of the swimming pool and Villa Buffalo in November 2013.
In 2015 our joy is huge, the complex is finally done, and now all we need is Relax!
We are looking forward to retire in a few years, and finally enjoy, what once was only a Dream, our reality.